Fantasy Author Marsha A Moore is no stranger to A Well Read Woman Blog. I have done several book reviews for her and have even interviewed her. Today I would like to shine the author spotlight on this talented woman.
The following is a selection of book reviews and an interview. I hope you enjoy!
The following interview was conducted on February 12, 2015.
AWRW: Hi Marsha, thank you so much for agreeing to be interviewed on A Well Read Woman Blog! Please tell us a little about yourself and your background.
MM: "I love to write fantasy and paranormal romance. The magic of art and nature often spark life into my writing, as well as into my watercolor painting and drawing. I've been a yoga enthusiast for over a decade and am a registered yoga teacher specialized in work with veterans."
"After a move from Toledo to Tampa in 2008, I've transformed into a Floridian, in love with the outdoors. I'm crazy about cycling. I live with my husband on a large saltwater lagoon, where taking my kayak out for an hour or more is a real treat. I never have enough days spent at the beach, usually scribbling away at stories with my toes wiggling in the sand. Every day at the beach is magical!"
AWRW: Sounds wonderful! Please tell us a little about your novel Shadows of Serenity, and include a short tagline meant to intrigue.


MM: "Shadows of Serenity is a mix of genres, best described as a women's fiction paranormal mystery."
Can Joyce Runsey guide her class to become yoga teachers in her new studio, when the ghost inhabiting the old Victorian house has other plans?
AWRW: I recently read and reviewed your book, Shadows of Serenity, an excellent paranormal novel about a haunted yoga studio. What was your inspiration behind Shadows of Serenity? As a registered yoga instructor, did you pull a lot of your inspiration from your experiences?
MM: "Shadows of Serenity was inspired by my experiences while completing a yoga teacher training program. I was overcome with joy seeing the incredible, positive transformations of my classmates. I wanted to create a story that would show this amazing growth. To do so, I created a force of evil that the power of yoga must overcome. The negative energy manifested through a ghost who haunted the yoga studio and was tormented by her former husband, a man capable of dark witchcraft."
AWRW: Please give us some insight into the main character of Shadows of Serenity, Joyce Runsey. What does Joyce do that makes her worthy of the title, "heroine"? What does she do that makes her interesting?
MM: "Joyce is a good heroine because she's a compassionate leader and goes to great lengths to keep her students safe. She's interesting because she has flaws she must overcome in order to help her students reach their personal goals. With a malicious ghost and a very real mass murderer on the studio's property, she must rely on her own yoga training in order to lead her to the only key that will dispel those threats. A calm and tranquil mind escapes Joyce when faced with these dangers. Her determination and will are certainly challenged."
AWRW: Excellent answer. I agree that Joyce is a great heroine and I enjoyed living vicariously through her while reading Shadows of Serenity.
Speaking of her, if a movie adaptation was made of the novel Shadows of Serenity, who would you like to see play Joyce Runsey?
MM: "I could imagine Jennifer Aniston playing Joyce. She has the ability to be both calm and flustered like a light switch, which is just what Joyce goes through in this story."
AWRW: Who designed your cover art for Shadows of Serenity? Do you use the same designer for all of your books? And do you think a book cover plays an important role in the buying process?
MM: "I like to do my own cover art. I tend to create something a little different than the current trends so my covers are more memorable. I think that's critical to catch readers' attention."
"For Shadows of Serenity, I wanted a cover that contrasted the forces of good and evil in the book. The soft, white lotus represents yoga's positive energy. The angular black graphic represents the dark witchcraft influence of the ghost's former husband. Between those two images, is the vaporous ghost who haunts the yoga studio and is caught in the struggle between good and evil."
AWRW: It's a beautiful cover. What genre of books do you write?
MM: "I write mostly fantasy and paranormal, usually with a subplot of romance. Shadows of Serenity was a bit different, without any romantic element, and more of a mystery subplot. Also, the magical elements in the book are used in the style of magical realism, where the magic is accepted as commonplace by the characters. I enjoyed playing with that treatment of fantasy elements."
AWRW: What draws you to this genre?
MM: "I like the complexity of weaving fantasy elements into reality. That has always appealed to me. When I was a child, as young as five, my favorite story-time activity with my dad was to make up fantasy tales. Together we created some amazing adventures in the Land of Wicky Wacky."
AWRW: Thank you again Marsha for sharing information about yourself, and your work. Where can readers discover more about you?
MM: "Thank you, April, for interviewing me today!"
Website: http://MarshaAMoore.com
Facebook: http://www.facebook.com/marshaamooreauthorpage
Twitter: http://twitter.com/MarshaAMoore
Google +: http://google.com/+MarshaAMoore
Pinterest:  http://pinterest.com/marshaamoore/
Goodreads author page  http://www.goodreads.com/marshaamoore
AWRW Book Review: Shadows Of Serenity
Joyce Runsey spends her life savings to open a yoga studio in an historic Victorian St Augustine house, only to discover the property is haunted. A female ghost's abusive, and very much alive husband, still tortures her by using dark witchcraft. The disruptive energy thwarts Joyce's ambition to create a special environment to train students to become yoga teachers.
Joyce engages in a deadly battle with not only the tormented spirit, but also the dangerous husband. To protect her students from harm, she must overcome mounting obstacles. An unknown swami pays an unexpected visit to give advice on how to free the anguished ghost. Can Joyce comprehend and follow the wise man's guidance in time to save everyone who depends on her?
205 pages
Published June 9th 2014
Genre: Women's Fiction, Paranormal, Fantasy
Add to your GOODREADS TBR List
Review Originally Posted 12/31/14
"Something is not right. And I don't intend to let whatever negative energy is here to drive off, or worse yet, harm my students of my studio."
Joyce Runsey just bought a beautiful Victorian home in the woods, with a converted yoga studio, she named Serenity Woods Yoga. It is a great place for her to live, and teach her students the ages-old yogic path, so that they can become teachers themselves.
Almost immediately, bad energy surrounds the new construction, and a creepy message is scrawled on one of the boards. Her studio, although well meaning, is bathed in negativity.
Joyce learns that her Victorian is inhabited by a restless spirit who once lived there and wants no part in her or her teachings. How is Joyce to make sure her students reach personal growth when a ghost is harassing them? How is she to deliver the spirit from it's imprisonment?
Before Joyce knows it, a Swami blesses her residence, and a paranormal investigative team named the Granny Ghoulies inspect her home. Joyce is willing to try anything to break the cycle of darkness, and the race is on… before it is too late and everyone is affected by the dark spirit.
I loved the plot for Shadows of Serenity. The juxtaposition of a serene, peaceful yoga studio, set up against the mystery and dark energy of the paranormal, made for a fascinating read! I can honestly say this was one of the most unique stories I have read to date.
I enjoyed Marsha A. Moore's ability to build a world around her characters. Her writing style made the characters leap up from the pages. When she described the musky exotic scent emanating from the yoga studio, I felt as if I was there, practicing yoga and inhaling incense with the other students.
I learned a lot about yoga from Shadows Of Serenity, and it did pique my interest. The following is some of the yoga vocabulary I learned:
Asana:  The art of sitting still.
Purvadista: Award of destiny.
Ahimsa: The principle of non-violence toward all living beings.
Eight Limbs of Yoga: Guidelines on how to live a meaningful and purposeful life.
Dirgha Breath: A basic breathing exercise that is calming and grounding. Also called "three part breath".
Metta: Empathy. An attitude of friendliness.
In my personal opinion, lovers of the paranormal, chick lit, and/or books that are yoga themed would love Shadows of Serenity!
AWRW Book Review: Witch's Moonstone Locket ( A Coon Hollow Coven Tale, Book I)
Twenty-three-year-old Jancie Sadler was out of the room when her mother died, and her heart still longs for their lost goodbye. Aching to ease her sorrow, Aunt Starla gives Jancie a diary that changes her entire life. In entries from the 1930s, her great grandmother revealed how she coped with her own painful loss by seeking out a witch from nearby Coon Hollow Coven. The witch wore the griever's moonstone locket, which allowed whoever could unlock its enchantment to talk with the dead.
Determined to find that locket, Jancie goes to the coven's annual carnival held in her small southern Indiana town of Bentbone. This opposes her father's strict rule: stay away from witches. But she's an adult now and can make her own decisions. She meets Rowe McCoy, the kind and handsome witch who wears the moonstone. He agrees to let her try to open the locket, but they're opposed by High Priestess Adara and her jealous desire to possess him. Desperate for closure with her mother, Jancie persists and cannot turn away from a perilous path filled with magic, romance, and danger.
Paperback, 324 pages
Published April 3rd 2015 by Createspace (first published March 21st 2015)
Genre: Fantasy, Paranormal Romance, Fairy Tales, Legends, Mythology
Review Originally Posted: 4/29/16
The upcoming Labor Day weekend means the valley coven's yearly carnival, a perfect chance for Jancie to seek out the witches. After her mother dies from cancer, Jancie needs closure – even if the only way to get her closure is to disobey her father who doesn't approve of witches and magic. Her great aunt Starla, on the other hand, encourages Jancie to seek out the coven member who's the moonstone story teller. However, there may be a price to pay if the moonstone locket opens…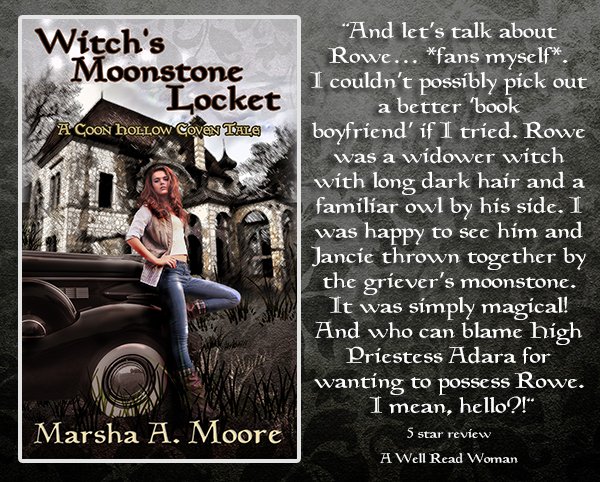 I love the fantasy writing of author Marsha A Moore. Whether she is writing about a haunted yoga studio, or a coven of witches – she always sucks me into her fictional worlds. I'm particularly fond of witch stories and I loved all the elements, herbs, fairies, familiars, and characters of this novel.
Although the villain, I loved High Priestess Adara. She had her entire coven manipulated and saw herself as invincible. Her obsession with Rowe became her downfall, but she never would have seen it coming, due to her arrogance.
"She's the one chosen to help me, and I vow to protect her."
And let's talk about Rowe… *fans myself*. I couldn't possibly pick out a better 'book
boyfriend' if I tried. Rowe was a widower witch with long dark hair and a familiar owl by his side. I was happy to see him and Jancie thrown together by the griever's moonstone. It was simply magical!
And who can blame High Priestess Adara for wanting to possess Rowe. I mean, hello?!
Jancie was great too. A bank teller by day, her life was thrown into a total whirlwind the day she stepped on carnival grounds. I loved the family connection and learning the real reason her father wanted her to avoid witches. Every page revealed a new surprise!
I loved the romance between Rowe and Jancie and the circumstances that brought them together. The world that surrounded them was vivid and descriptive, told by the author in great detail. I felt like I could smell the herbs in the gardens and the extra details about the fairies was awesome. I love when tales of mythology and folklore mix together!
A satisfying conclusion rounded out the end of book 1 and I look forward to reading book 2! I highly recommend this promising new series to fans of witchcraft lore and paranormal romance!
PURCHASE WITCH'S MOONSTONE LOCKET
AWRW Book Review: Witch's Cursed Cabin (A Coon Hollow Coven Tale, Book II)
Eager to be on her own away from home, twenty-year-old Aggie Anders accepts a relative's invitation to live in Coon Hollow Coven. Although she's a witch from a different coven, what locals say about the Hollow confuses her. How can witchcraft there live and breathe through souls of the dead?
Aggie's new residence in this strange southern Indiana world is a deserted homestead cabin. The property's carriage house serves as the coven's haunted Halloween fundraiser. It's a great opportunity for her to make new friends, especially with the coven's sexy new High Priest Logan.
But living in the homestead also brings Aggie enemies. Outsiders aren't welcome. A cantankerous, old neighbor tries to frighten her off by warning her that the homestead is cursed. Local witches who practice black magic attempt to use their evil to drive Aggie away and rid their coven of her unusual powers as a sun witch.
Determined to stay and fit in, Aggie discovers not only that the cabin is cursed, but she alone is destined to break the curse before moonrise on Samhain. If she fails, neither the living nor the dead will be safe.
Kindle Edition
Published April 27th 2016
Genre: New Adult, Paranormal Romance, Urban Fantasy
305 Pages
Review Originally Posted 5/3/2016
Aggie is a sun witch with haptic sense who moves out of her parent's home to find herself. Upon moving into a cabin, she learns it is haunted by ghosts of witch kin and their talking animal familiars – including a banshee tied to the house who could put her in real danger!
Will Aggie be able to break the black magic curse? And as an outsider living in the homestead, will the witches of Coon Hollow accept her presence?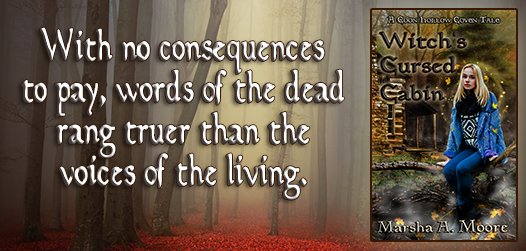 I'm really loving the Coon Hollow Series! I like the new adult theme and the witchcraft lore of these books. There is also a subplot of romance for those who love the endorphin rush of a happily-ever-after!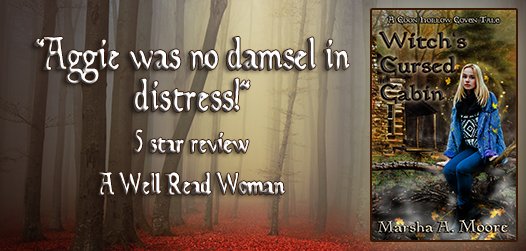 Aggie was such a great character. I really enjoyed reading about her adventures in Coon Hollow. The romance in this novel wasn't as strong as book 1, making this book more of a female-driven novel. Aggie was no damsel in distress!
The world building was vivid and absolutely fantastic. When you read a book by Author Marsha A Moore, be prepared to escape into her fantasy worlds. I love her writing style.
Overall, I would highly recommend this series to fans of paranormal romance focusing on witchcraft. 5 stars!